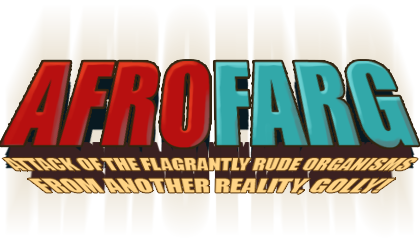 Attack of the Flagrantly Rude Organisms From Another Reality, Golly!
A downloadable game for Windows
AFROFARG is a tower defence game with a twist. In it, you manage a series of turrets to protect your base against attacking organisms. You have two types of turrets at your disposal; fire and ice. Fire turrets will damage ice enemies and vice versa. You must take advantage of each turret's strengths, or you are sure to fail.


AFROFARG is not an easy game, but once you get the hang of buying and salvaging turrets to suit your current needs, the game becomes much simpler to play and beat.

The game features three unique maps to play on, each with their own individual blind spots and choke points. You may fail on a map multiple times before you master it. Each map has 40 waves of enemies, each new wave progressively harder than the last.

Be sure to read the help post, it offers a lot of information on how the game works and what you need to be successful.

Thanks for playing! Any and all feedback is appreciated!
Original Release Date: June 17, 2011
---
Post-mortem Commentary:
Attack of the Flagrantly Rude Organisms From Another Reality, Golly!, also known as AFROFARG, was made as a side project while taking a break from working on Ascension. It was an ill-planned idea that took way too long to finish and ended up being kinda fun.
The title theme was kindly composed by Alexander Goncharuk (https://soundcloud.com/darkcloudmusic), while the in-game theme was composed by Justin Wang.
Download
Click download now to get access to the following files: